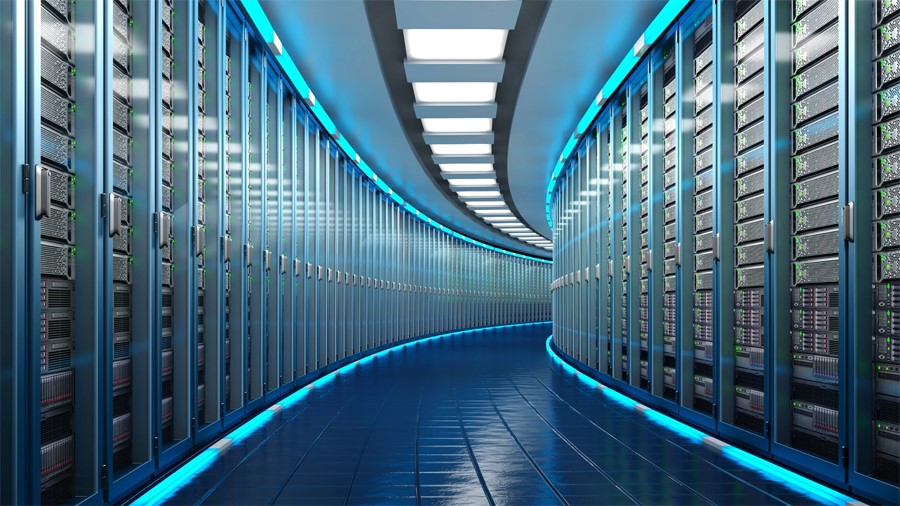 Massive Wasted-servers to Be Derived From 5G Era– Green Recycling Will Be the Key to Sustainability
One can completely imagine the world following the realization of 5G with more rapid data transfer, seamless streaming of video, and IoT networks connecting all devices and equipment, in which people's lifestyles attain unprecedented levels of convenience. However, the situation underlying this beauty will not be without its costs, one of which will be an increase in server deploys.
According to a survey by Taiwanese market research organization, TrendForce, in the global number of shipments for servers, the proportion utilized for Internet data centers is rising each year with a growth rate of nearly 40% for 2019. With the gradual transfer to 5G, the demand for servers is set to increase for telecommunications enterprises and Internet service providers alike with server shipments expected to reach new heights in 2020.
These servers will not only provide high-performance cloud computing services but simultaneously be utilized for storage of explosively growing data. As a result, it will be necessary to make use of higher performance processing chips; furthermore, this will entail the addition of more storage chips, and demand for semiconductors will be higher than ever.
About Five Years Later, Pollution Problems Will Emerge for Waste Servers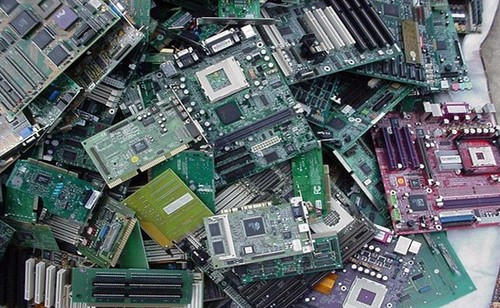 Although they have longer lifecycle than consumer products, servers face similar issues with wearing out and needing to be replaced, and they generally have average lifespans of five years. Hence, five years in the future, a series of problems with pollution related to waste servers will arise. As a hub for data centers in Asia, major companies have established data centers in Taiwan, including Amazon, Google, and Microsoft, and it will be imperative that related enterprises and government organizations devise means of handling the potential pollution problems which will be brought about by these servers.
From another perspective, the manufacturing of large quantities of servers and IoT devices will also increase the consumption of precious metals and rare earth elements, such as gold, silver, palladium, tantalum, tin and cobalt and lead to increased mining of these minerals, and this will, in turn, impact the earth's environmental ecology.
As a result, from the standpoints of environmental protection and sustainability, the arrival of the 5G era is certain to accelerate the loss of the earth's resources while also increasing quantities of e-waste. Therefore, employing an "Urban Mining" strategy which is based upon the circular economy will be the optimal response.
In addition to conforming to contemporary social models, this strategy will also have the capacity to yield extremely high recycling efficiency. According to data from the Recycling Management Board of Taiwan's Environmental Protection Administration (EPA), the various electronic devices included in servers contain large amounts of precious metals, and if they can be recycled back into supply chains, this could alleviate the aforementioned problems.
Taiwan's UWin Nanotech is a company which specializes in providing hydrometallurgy environmentally-friendly precious metals recycling solutions, and their non-toxic and pollution-free metal-stripping solutions can be utilized to recycle precious metals in e-waste rapidly and with high-efficiency with the prerequisites of being safe for humans and harmless to the environment.
Facing a Shortage of Precious Metals, Eco-Friendly Recycling is the Key to Sustainability
"Gold, silver, palladium, platinum, rhodium, ruthenium and iridium are the top precious metals facing a crisis of shortage," Kenny Hsu, Managing Director of UWin Nanotech, pointed out.
He further elaborated, stating that according to a survey conducted by the American Chemistry Society (ACS), in the coming century, there will be a shortage in production of the aforementioned precious metals primarily as a result of rapid increases in the quantities in which they are utilized. This will lead to an incapacity for the existing reserves of these metals to be replenished and harm to existing industrial supply chains. Therefore, developing precious metals recycling processes and technologies which are eco-friendly and highly-efficient is an urgent matter.
Currently, the recycling methods in some regions are very primitive, especially in undeveloped countries, and these regions still utilize methods which entail incineration to recycle precious metals with a portion of them even employing procedures involving the use of toxic and highly corrosive chemicals containing cyanide and aqua regia. This is not only hazardous to human health but also causes secondary damage to the environment.
However, UWin Nanotech instead makes use of wet-style environmentally-friendly precious metals recycling solutions, which utilize soaking processes and neither harm human health nor the material substrates, to rapidly strip away precious metals. This method is vastly superior to traditional incineration-based procedures in terms of both safety and recycling efficiency. And both extraction rate and recycle rate greatly surpass the traditional process. More importantly, almost no exhaust fumes are produced during the procedure, and the waste water produced can be treated in its entirety making it the solution which is most consistent with the vision of sustainability.
On the other hand, the overall costs of these recycling solutions are extremely economical, and although they require an increase in expenditures on chemical formulas on the front end process, on the back end process they facilitate a reduction in the time required for metal stripping and the cost of wastewater treatment. If viewed in terms of gold recovery per liter of solution, the cost of utilizing UWin Nanotech's solutions is only approximately 10%-30% of the cost accrued using traditional methods.
Solving Server Recycling Requirements With Automated Eco-Friendly Precious Metals Recycling Solutions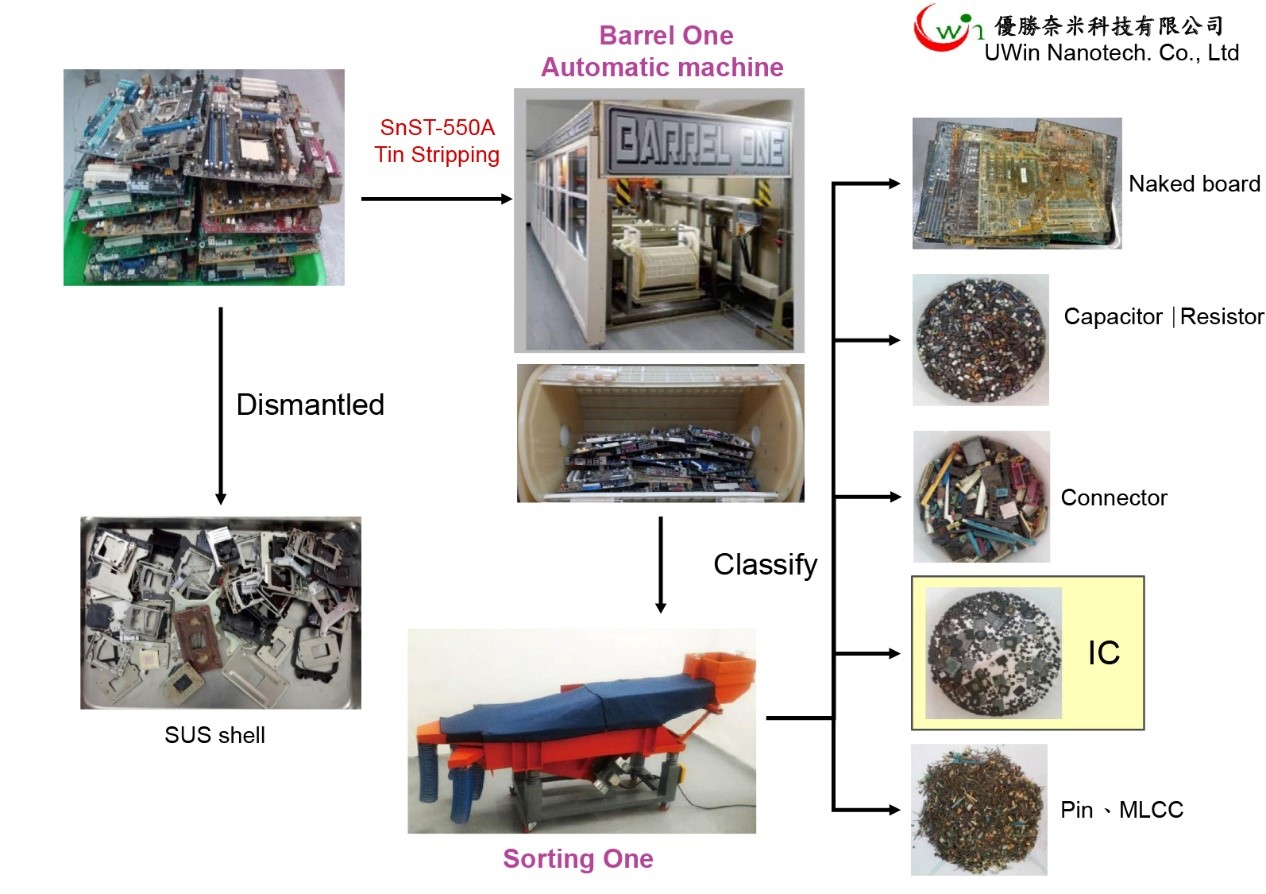 Aimed at rapidly-growing requirements for precious metals recycling of cloud servers, UWin Nanotech has also taken an extra step in carrying out a series of analyses and experiments to develop a set of automated recycling processes and facilities. In accordance with UWin Nanotech's processes, waste boards in servers are first dismantled and then undergo "Tin Stripping" with automated machinery, and the tin is rapidly stripped away and recycled using their environmentally-friendly SnST-550A prescription.
Following tin stripping, automated sorting machines are utilized to sort the components and the motherboards which are peeled off, and they then are sorted into bare boards, resistors and capacitors, connectors, IC chips, and pin feet and MLCC. Among them, the IC chips contain the highest content of gold, and they are pulverized again before undergoing an anoxic carbonization process to remove package housing materials. Finally automation equipmentis integrated with UWin Nanotech's solution to extract the gold from the inside.
In accordance with UWin Nanotech's practices, the use of these automated gold-stripping processes to handle the waste server boards on the market can yield an average of US$7,300 worth of precious metals per ton. Furthermore, the recycling value per ton of some high-end brand-name products even exceeds US$13,000.
Comprehensive Environmental Recycling Solutions Transform E-Waste Into Resources
UWin Nanotech has accumulated extensive know-how and experience related to precious metals recycling, and they have developed a series of precious metals recycling solutions and corresponding automated facilities and equipment which have the capacity to provide solutions for a wide variety of application sizes and types.
Kenny Hsu explained that UWin Nanotech is a complete solutions provider for eco-friendly recycling of precious metals with the capability of providing precious metals recycling technologies and solutions for a wide variety of e-waste including servers, including eco-friendly metal strippers and customized facilities. In addition, the company also provide professional consulting and training curriculum to enable customers to create optimal recycling lines in accordance with their own requirements.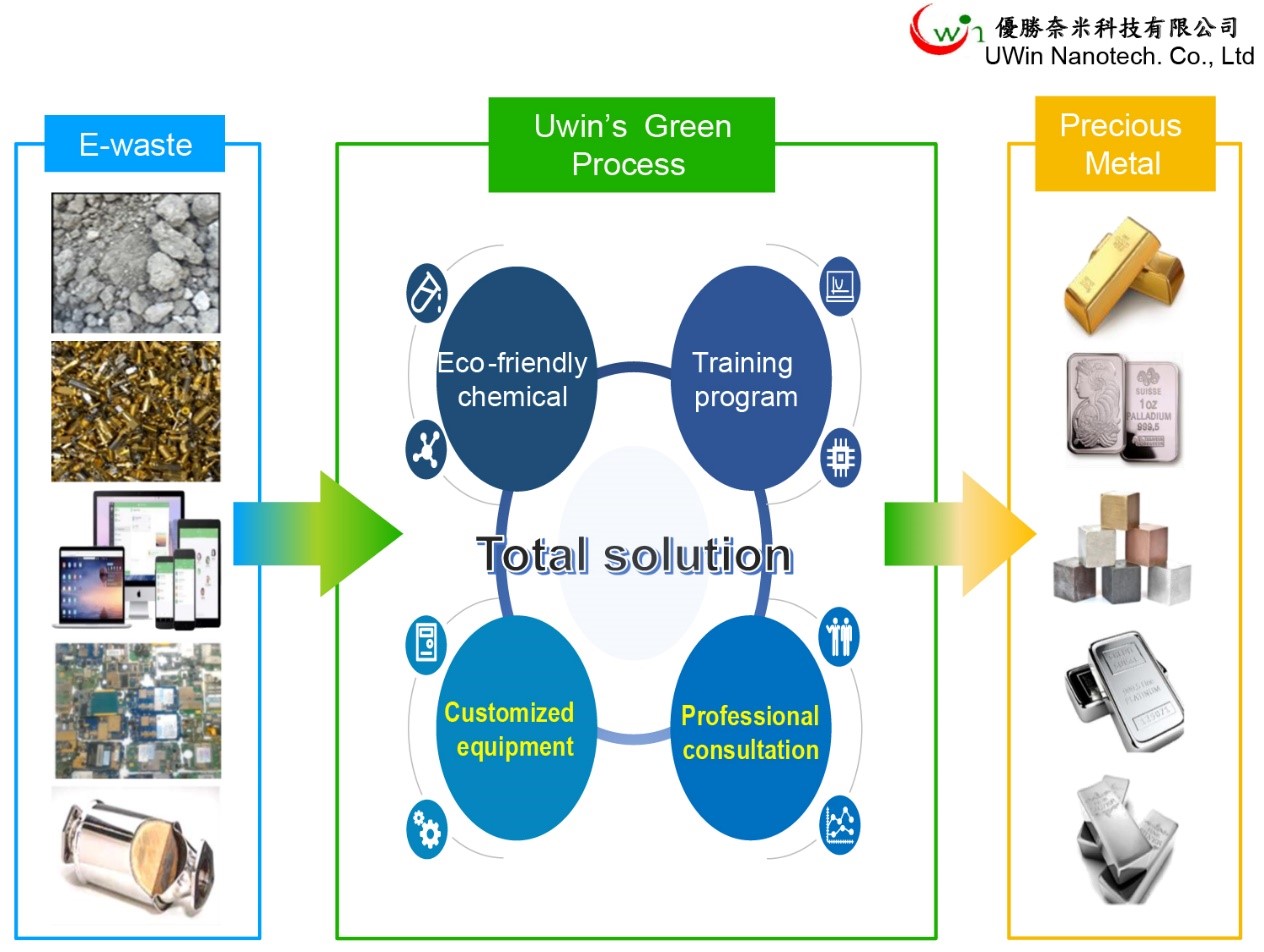 Currently their primary application areas include: semiconductor, PCB boards, e-waste, and automotive catalyst recycling and mining, and their business footprint has spread all over the world. Their gold recycling technology has also received great attention from French representatives.
Although UWin Nanotech has achieved considerable results in the domain of precious metals recycling, the company is still continually improving the quality of their solutions while simultaneously being committed to the promotion of green chemistry education and circular economy ideology in order to realize the vision of ecological sustainability for the earth.
As a result of this, Kenny Hsu also calls for the industry to be more active in implementing green recycling processes and transforming traditional manufacturing concepts in order to enable recycling to be integrated into supply chains and truly realize the circular economy.
"The development of 5G generates the iCloud, and it must be a green cloud now and ever," said Kenny Hsu.